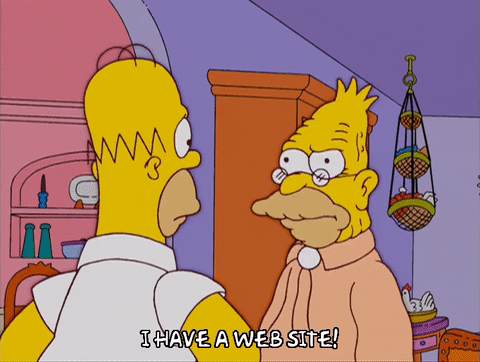 Best thing you can do for your business – build a killer website.
But agencies charge you thousands of dollars and still do a terrible job building it. We own 20 websites and learned this the hard way.
Instead, here are 14 no-code builders that cost a fraction and you can use yourself.
Elementor
Showit
Bazium
Webit
Simvoly
Unicorn
Yola
RubberDuck
UENI
Dorik
10Web
Pixpa
Web.com
Ucraft
Dora
Divi (Elegant Themes)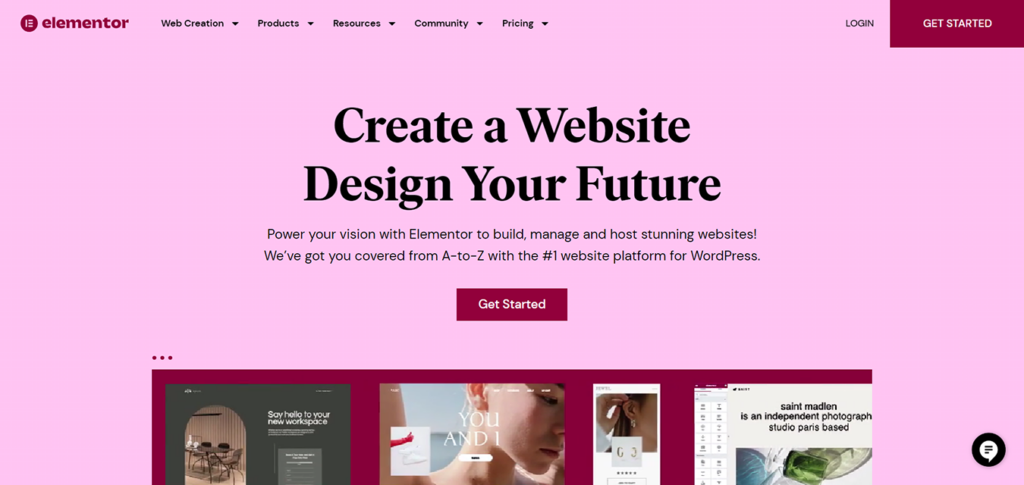 Elementor is a versatile all-in-one website builder that makes creating WordPress websites simple and fun. It comes with features such as drag-and-drop editing, full website kits, templates, custom code, and responsive design. Introduced in 2023, Elementor AI allows you to add original text and code to your website easily.
All-in-one website builder: Hosting, Elementor, theme, and WordPress
Advanced design capabilities: Extensive and responsive design
Theme builder: Create every part of your website
Dynamic content: Build content-rich websites
Marketing features: Form, popup, and landing page builder
WooCommerce builder: Fully integrated with WooCommerce
Business owners
Agencies
Freelancers
Marketers
Content creators
Basic: $9.99 per month, 1 website, billed annually
Business: $19.99 per month, 1 website, billed annually
Grow: $22.99 per month, 3 websites, billed annually
Scale: $49.99 per month, 10 websites, billed annually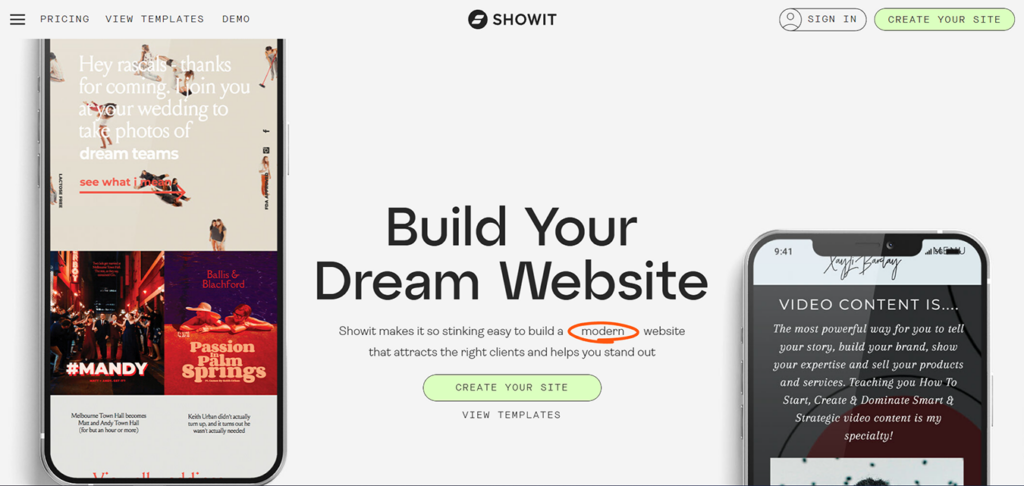 Showit is a website builder that allows you to create visually captivating pages. It offers a drag-and-drop interface, hundreds of beautifully-designed templates, SEO optimization, and WordPress integration. You can elevate your design further with custom fonts, personal branding, and interactive elements.
Drag-and-drop website builder: User-friendly drag-and-drop editor
Responsive design: Fully responsive websites that adapt to any display
Visual freedom: Customize fonts, colors, layouts, and backgrounds
WordPress integration: Access and use powerful WordPress features
Collaboration and client proofing: Streamlined feedback and revision process
Small businesses
Entrepreneurs
Artists
Designers
Photographers
Free trial: try Showit for 14 days
Showit: $19 per month, billed annually
Showit & basic starter blog: $24 per month, billed annually
Showit & advanced blog: $34 per month, billed annually
High traffic plans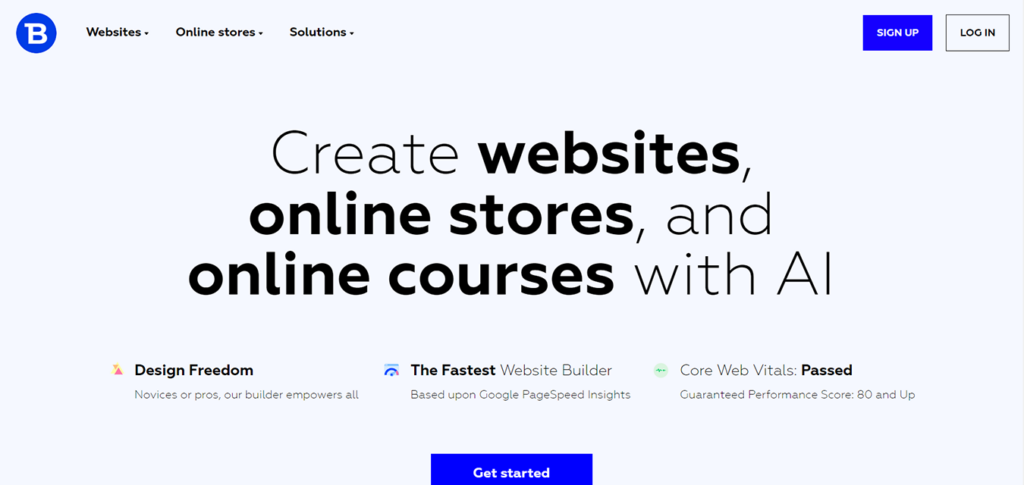 Bazium combines user-friendly functionality with AI to help you build a custom website people love. It features drag-and-drop design, templates, domain, hosting, and SEO. Bazium is very proud of their optimization, guaranteeing exceptional Core Web Vitals performance (80+).
Predesigned templates: Quick and easy setup and launch
Super blocks: 200+ predesigned blocks to create a website
Block animation: Parallax, rotation and motion, pulsation, spawn animation, fixation on screen
Core web vitals: Guaranteed Google pagespeed score (80+)
Bazium tools: Over 100 tools to increase performance
Artists
Designers
Teachers
Local businesses
Online stores
Free trial: Try Bazium for 14 days
One-pager: $7 per month, billed annually
Nifty website: $15 per month, billed annually
Online store: $15 per month, billed annually
First base: $23 per month, billed annually
Course master: $50 per month, billed annually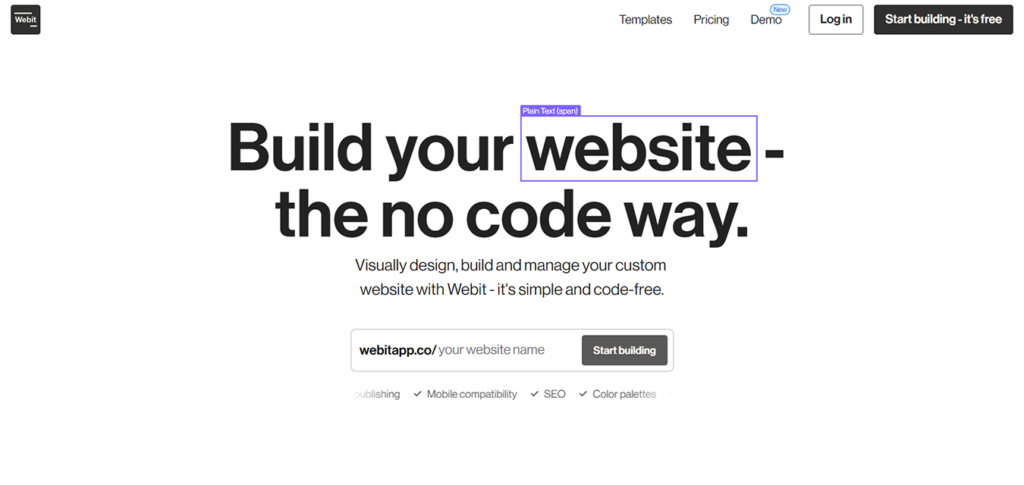 Webit is a builder that allows users to make zero-code pages for any industry. It supports custom design, custom scripts, customer management, and invoicing. Webit also offers exceptional customer service. You can try it for free on their demo page, no credit card required.
Content blocks: Insert pre-built content blocks into your website pages
Element styling: Customize your typography, add spacing and flexible layouts
Design system: Configure the attributes of every element
Color palettes: Choose from dozens of combinations
Free-hand positioning: Drag elements across your website
SEO: Rank on Google & maximize your reach
Custom scripts: Add fonts, custom code, or external analytics trackers
Online content creators
Digital designers
Small businesses
Free
Professional: 16€ per month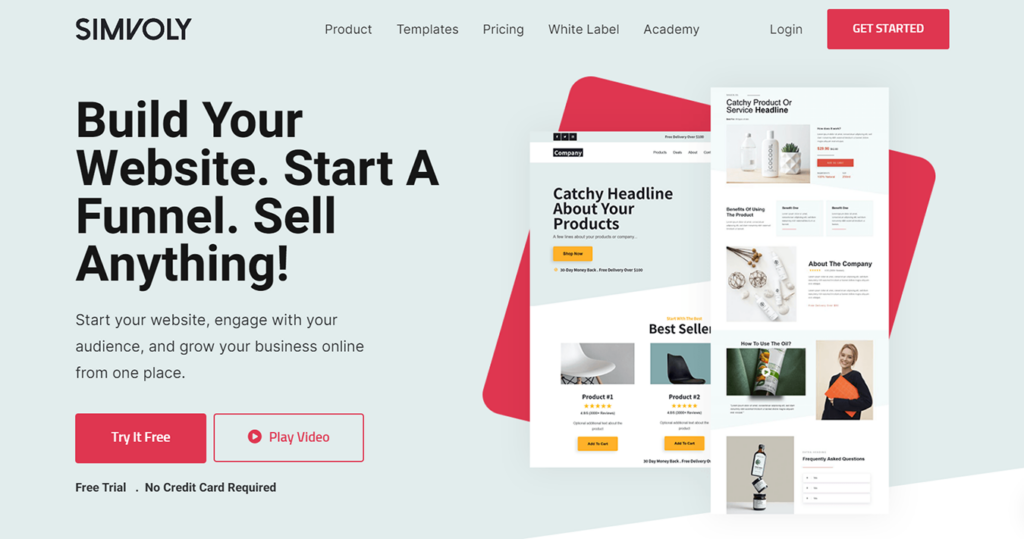 Simvoly is a builder that allows you to create your website and marketing funnels together. Features like drag-and-drop editing, A/B testing, one-stop checkout, quizzes, and surveys make it popular for businesses of any size. Simvoly also features an AI text assistant for creating unique content, and will soon be launching Learning Management and Community Builder.
100% white label: Rebrand and promote as your own SaaS
Page builder: Smooth drag-and-drop builder
Funnels: Create flows of pages connected together with a/b testing
E-Commerce: Sell products, manage subscriptions, track analytics
Appointments: Create your schedule and accept appointments
Emails & automations: Customize your email campaigns and automation flows
SMBs (small and medium-sized businesses)
Agencies
SaaS
Hosting companies
Personal: $12 per month, billed annually
Business: $29 per month, billed annually
Growth: $59 per month, billed annually
Pro: $149 per month, billed annually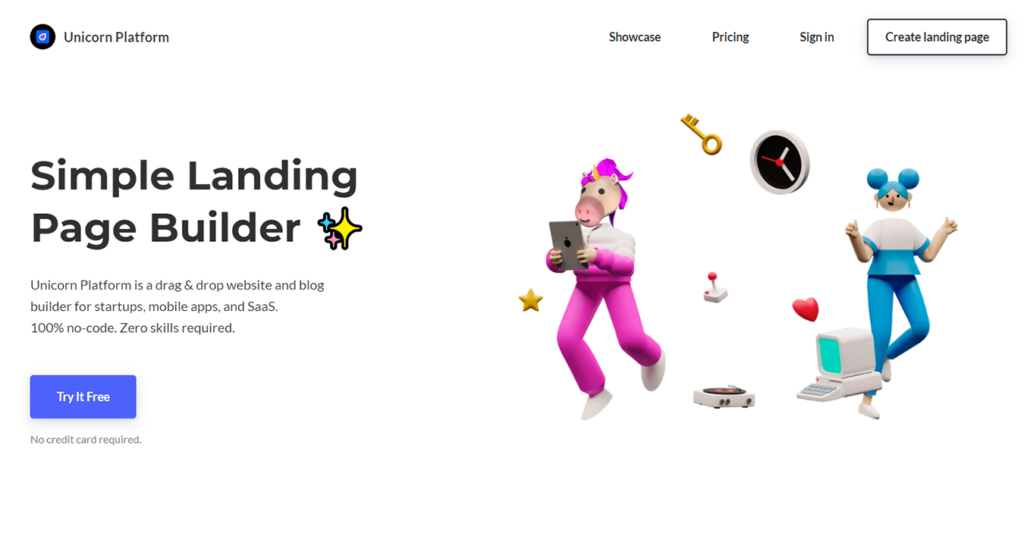 Unicorn's AI-powered builder is excellent for creating premium landing pages. Designer-made templates are at your disposal so you don't have to build from scratch. You can also create blogs, stores, content, and translate entire pages in a few clicks. Unicorn has been voted #1 product of the day on Product Hunt.
Drag-and-drop: Build landing pages easily
Design freedom: 105 templates and components
Custom domain: Publish on your own domain in one click
Google Sheets integration: Easy cross-platform connection
No coding: Zero skills required to build
Product Hunt award: #1 Product of the day
SaaS
Mobile apps
Startups
Devs
Lurker: Free
Maker: $8 per month
Startup: $18 per month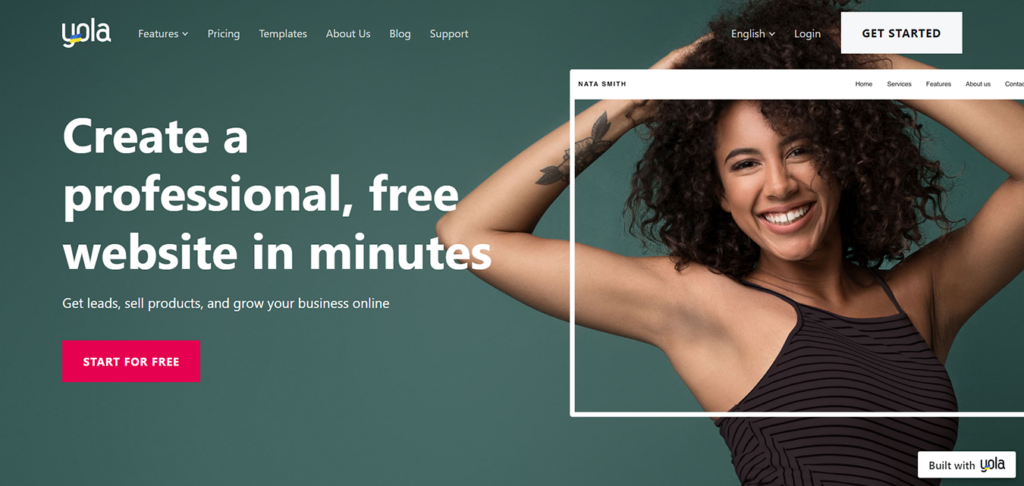 Yola is an easy-to-use builder which requires zero previous experience. It offers a drag-and-drop editor, design automation, pre-designed blocks, and custom domains. With a subscription, you also get a free .com domain for 1 year.
Website builder: 65+ tools and features
Online store: Buy, subscribe, download, and donate
Domains: Free .com domain for 1 year
Zero requirements: No design or coding experience needed
Customer support: Quick help with anything you need
Small and medium businesses
Online sellers
Service providers
Non-profit organizations
Bronze: $5.91 per month, billed annually
Silver: $14 per month, billed annually
Gold: $26 per month, billed annually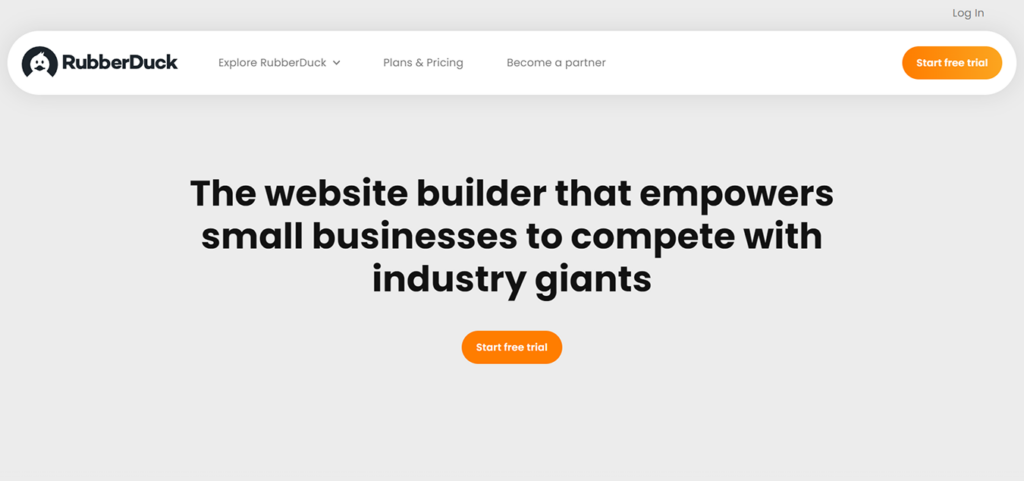 RubberDuck excels in integrations with a plethora of built-in apps. It also offers designer-made templates, reliable hosting, and easy customization. They are especially proud of their fast loading speed (100% on GT Metrix) and having the lowest carbon footprint (70% lower than the average website).
User-friendly page builder: Simple to set up and manage
Multilingual capabilities: Have your website in multiple languages
Built-in apps: Blog, portfolio, directory, calendar, forms, and landing pages
Professional templates: Choose from gorgeous pre-made templates
Third-party integrations: Connect with your favorite apps easily
Service businesses
Service professionals
Manufacturers
Non-profit organizations
Free trial: Try RubberDuck for 14 days
Starter: $19 per month, billed annually
Business: $33 per month, billed annually
Premium: $67 per month, billed annually


UENI is the top choice if you wish to do zero work yourself. It offers beautiful templates, many customization options, hosting, domain, SLL, and support. For a one-time fee, the platform will set up everything your business needs.
Done-for-you website: UENI builds, you enjoy the benefits
Free hosting and maintenance: One price, no additional costs
Custom domains and email accounts: Included in the price
Easy-to-use website editor: Adjust any element you want
Google My Business Profile: Build a strong online reputation
Small business owners
New business owners
Lifetime: $199 one-time payment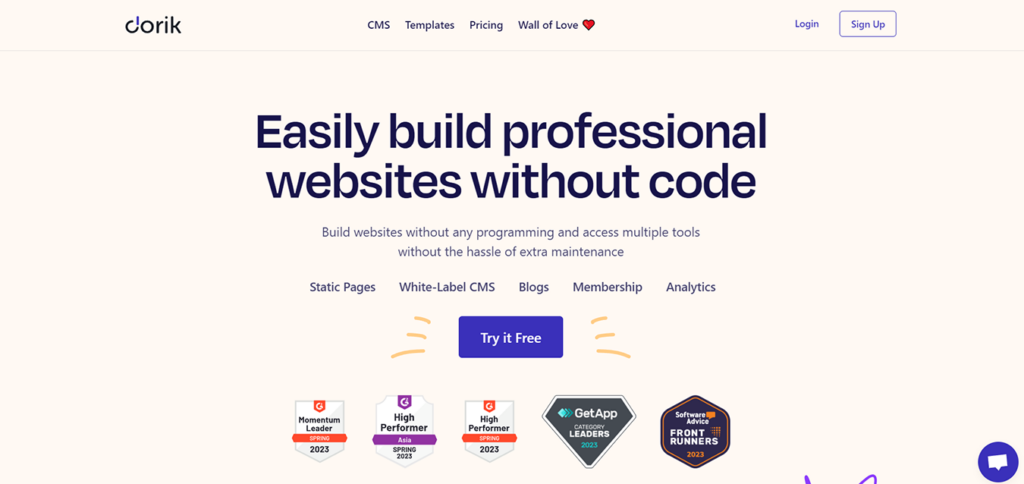 Dorik is excellent for building beautiful websites and offering your clients personalized content management systems. Features include drag-and-drop editing, responsive design, custom domain, free certificates, native SEO, and live support.
Professional templates: 80+ templates to choose from
White-label CMS: Build websites under your brand for your clients
Client billing: Send invoices and receive payments
Membership: Manage memberships and monetize your website
Build with Airtable data: Bring your Airtable Data to beautiful interfaces
Unlimited storage & bandwidth: More building freedom
User analytics: To measure and analyze user data
Custom collection: Store content and present it on your website
Individuals
Entrepreneurs
Product designers
Developers
Marketers
Web designers
Agency owners
Freelancers
Personal: $3.29 per month, billed $79 for the first 2 years
Business: $8.29 per month, billed $199 for the first 2 years
Agency: $29.12 per month, billed $699 for the first 2 years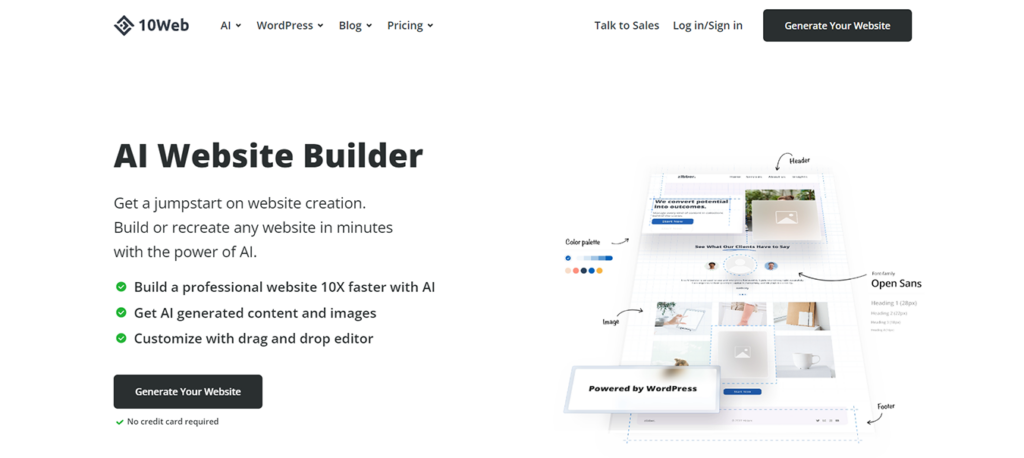 10Web uses the power of AI to help you create gorgeous websites. Simply paste the website URL and AI does the rest. It also offers premium widgets, domains, hosting, and support. Finally, it integrates with services such as Google Analytics, Zapier, Stripe, and more.
AI website builder: Generate pages, images, and copy using AI
Premium widgets: Over 50 widgets to customize your website
Mobile-friendly: Fully optimized for mobile devices
AI assistant: AI provides support with anything you need
10Web editor: Drag-and-drop editing based on Elementor
Website developers
Freelancers
Agencies
Small and medium-sized businesses
Personal: $10 per month,1 website, billed annually
Premium: $24 per month, 3 websites, billed annually
Agency: $60 per month, 10 websites, billed annually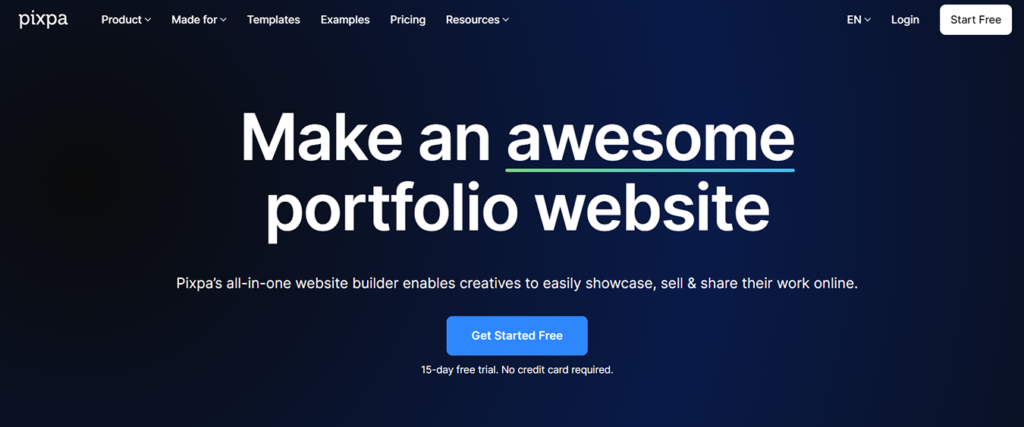 Pixpa is a wonderful solution for creating your online portfolio. It allows you to showcase, sell, and share your work. It supports stores, blogs, photo galleries, and more. Through Pixpa, you can also get hosting, domain, SSL, and support.
Portfolio builder: Easily create your professional portfolio
Smart tools: online store, blog, SEO manager, marketing pop-ups, and announcement bar
24/7 support: Get reliable help whenever you need it
Unlimited bandwidth: No restraints to your growth
Responsive templates: 150+ beautiful templates available
Creatives
Small business
Photographers
Artists
Designers
Free trial: Try Pixpa for 15 days
Basic: $4.80 per month, billed annually
Creator: $9.60 per month, billed annually
Professional: $14.40 per month, billed annually
Advanced: $20 per month, billed annually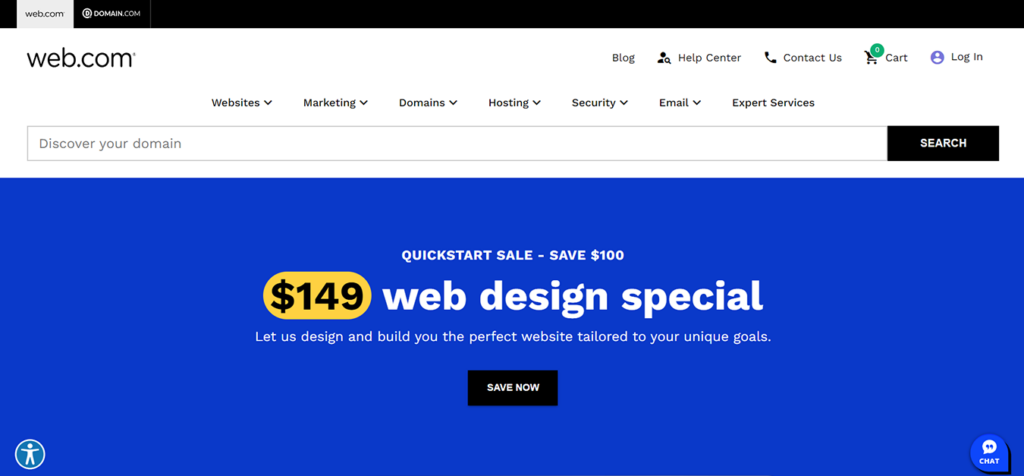 Web.com is a website builder with extended functionality. On top of making a great website, you can use their SEO and marketing services. Web.com also provides one free hour of design support to every user.
Drag-and-drop building: Add and move elements freely
Web design support: One free hour of support
Professional templates: 150+ beautiful templates to choose from
Ready-made blocks: Save time with pre-made blocks
AI copywriting tool: Create professional copy in a few clicks
Small business
eCommerce businesses
Entrepreneurs
Website: $4.95 per month, billed annually
Website + Marketing: $7.95 per month, billed annually
Online Store: $13.95 per month, billed annually
Online Marketplaces: $19.95 per month, billed annually


Ucraft is a great choice for eCommerce owners. Setting up stores is easy with drag-and-drop functionality, and you can translate your pages to multiple languages. Ucraft also offers team collaboration, SEO tools, and integration with third-party services.
Fast and simple page builder: No experience required
eCommerce platform: Excellent for any type of eCommerce business
Marketing tools: Reach your desired audience
Design tools: Build a website people fall in love with
Content and SEO management: Control development and growth
eCommerce
Business owners
Marketing agencies
Design agencies
Webmasters
Freelance designers
SaaS enterprises
Free trial: Try Ucraft for 14 days
eCommerce Starter: $17.99 per month, billed annually
eCommerce Growth: $41 per month, billed annually
eCommerce Unlimited: $255 per month, billed annually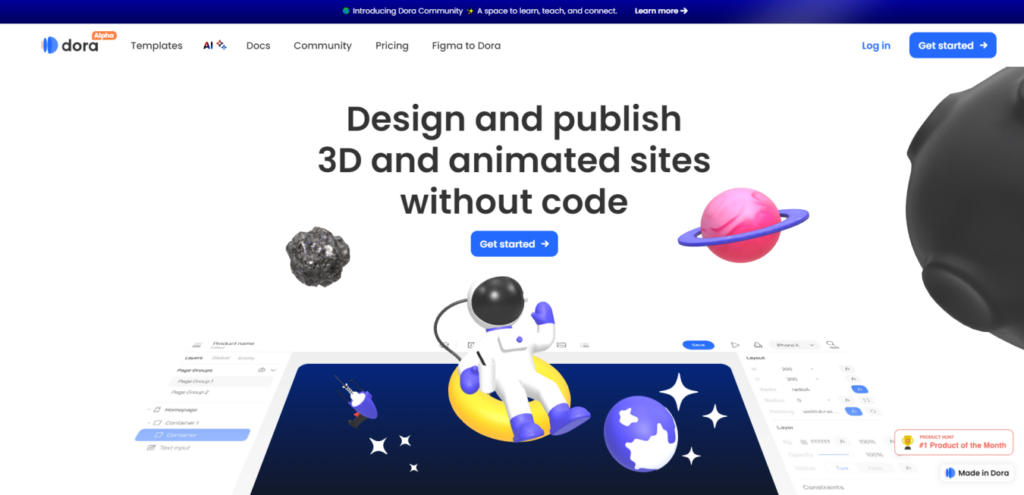 Dora is an innovative website builder that can design and publish sites with 3D assets and advanced animations without code. Their recent milestone includes hitting the #1 spot for the Product of the Month on Product Hunt with DoraAI — an intelligent web builder that can generate websites from text and allow full customization of UI components within the editor.
3D models: Add and adjust directly in the web editor
Keyframe: Set up and use complex animations
Dora Constraint Layout: faster, more intuitive responsive websites
Figma plugin: Seamless transfer from Figma to Dora
Image Sequence: Show multiple images when scrolling
Dora AI: Create a 3D website with just one AI prompt
Agencies
Designers
Startups
Free (paid plans to be introduced)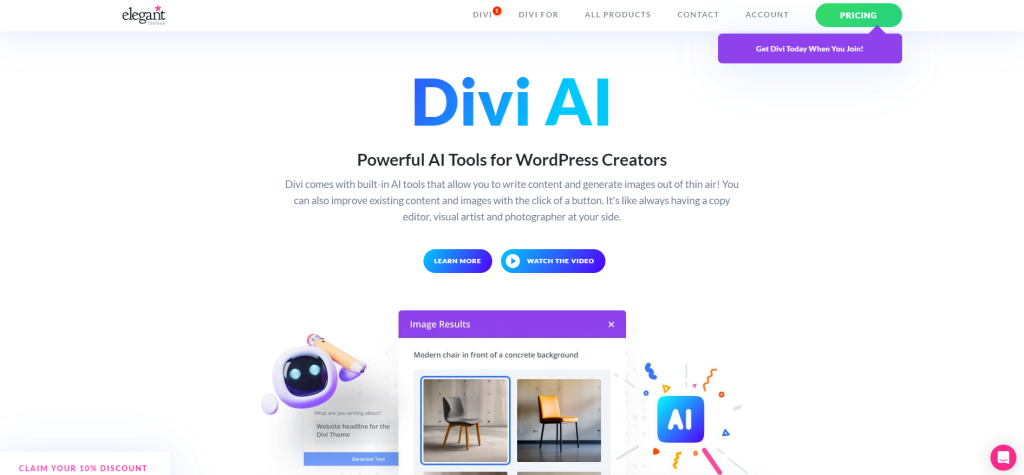 Divi is a flagship theme and visual page builder for WordPress. It's the most widely used premium theme in the world. It provides a full building framework for making gorgeous websites without ever touching a single line of code or using awkward plugins. As a cherry on top, you can also use Divi AI to generate text and images directly on your new page.
Divi WordPress Theme: Most advanced visual builder
Divi AI: Write content and generate images instantly
Complete Design Control: Drag and drop, responsive editing, custom CSS, and more
200+ Website Elements: Galleries, sliders, CTAs, blogs, and more
Super Fast: No bloat elements + lightning-fast loading time
Marketing Features: eCommerce, lead generation, split testing, and conversion insights
Freelancers
Agencies
Website Owners
Divi, Extra, Bloom, and Monarch
Yearly Access: $89
Lifetime Access: $249
Divi AI
Image and text AI: $24 per month
Shop Elegant Themes (Divi, Extra, Bloom, Monarch) here
Shop Divi AI here