Often regarded as creative thinkers that have a great way with words, design strategists do their best to see the big business picture and plan the way to success.
You could even say that a design strategist is a mediator between the design team, business owners, and the audience.
Their unique skill set allows them to understand everyone's standpoint, as well as to use that information when resolving problems and improving the project.
Do you find this position interesting and wish to become a design strategist? Maybe you want to hire one and you're wondering how they can benefit your team?
In this article, we'll take a look at the design strategist's role and explain how a rock-solid design strategy can make the difference between average results and the full realization of your goals.
What does a Design Strategist do?
In plain words, design strategists are thinkers, organizers, and problem solvers. They check where the product is, assess where it needs to be, and figure out a way to get there.
As a direct result of the fast-paced market and ever-growing customer demands, the unique role of a design strategist is becoming increasingly important. In other words, if you want your company to get ahead of the competition in the design field, you'll need to get a design-thinking strategist on board.
Even though the position includes a large number of responsibilities and often varies from company to company, we did our best to group these so you get a clear idea about the work.
Research and Analysis
Design strategists often consider research and analysis to be some of the most important parts of their job. Setting up the research and conducting it well is the basis of a good design strategy.
The results you get will show you the situation on the market, give you an understanding of what the competitors are doing and, most importantly, allow you to see what content your customers actually want.
Gathering this data and analyzing it properly provides you with a head start. On top of this, it allows you to adjust the strategy, subsequently increasing the success of the final product.
Workshops and Interviews
After reading the previous section, you're probably wondering how to gather all that information. To do this, a design strategy expert organizes a series of workshops and interviews, both external and internal.
A great way to learn what your audience wants is to create workshops with clients and customers. Researchers often do this via email, through social media, or in person. This provides an opportunity to test specific design solutions and answers the question about what people like and dislike.
Asking people directly what they want usually isn't the best tactic, but presenting them with a few options and letting them choose often produces valuable results.
Besides communicating with clients and designers, collaboration with the business owners and organizations is also important. As you well know, the word of these people can give you insight into business opportunities and even spark innovation.
Finally, after doing all of the research work, it's the design strategist's job to combine the gathered information and think of the optimal way to reach the set objective.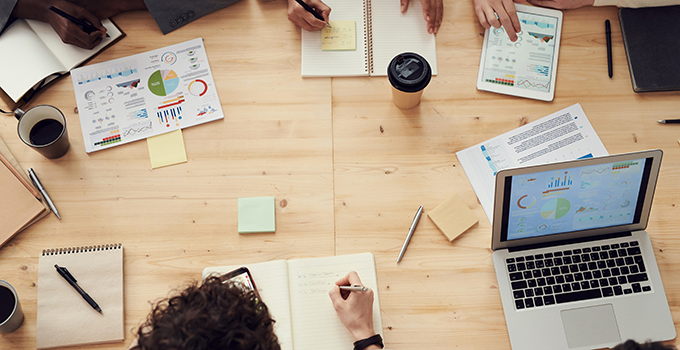 Customer Needs Assessment
If you're trying to attract new customers and increase your sales, the input you get from the workshops and existing customers will direct the future steps.
A great design strategist always assesses the user needs carefully and devises a plan that enables the final product to meet those needs.
Remember that design strategists are also part of the design sector. While the strategist is not a graphic designer, they need to consult with designers often and look for ways to facilitate their work.
Cost Evaluation
Whether we want to admit it or not, the cost can be a determining factor when creating a new product.
Based on the information they gather, strategists evaluate potential expenses so the money is distributed between the right projects and the goal is reached easier.
Product Review and Problem Solving
For the product to succeed, reviews and tests should be as objective as possible. The satisfaction of a finished product can easily distort the perception, resulting in overlooked issues.
In this particular situation, a design strategist makes sure that the product complies with the initial service design strategy and that it follows the guidelines that the team originally set.
Doing this is very important because it will identify problems before the product reaches the users. This way, the design team will get a chance for a quick response which will guarantee a top-level user experience.
Also read: What is Progressive JPEG and How Can It Improve Website Speed?
Final Presentation
Once the product is completely finished and approved, it needs to be presented the right way so the target audience recognizes its value.
Even though many people are included at this point, a design strategist still has an important role on that team.
As someone who was a part of the design process from the beginning, a design strategist can give valuable input to overcome challenges and promote the product better.
Conclusion
To summarize, a design strategist is often the true bond on the team – bridging the gap between designers on one side and clients on the other.
With carefully devised design strategies, you are on a great way to fully understand your users and ensure better results for your product.
What does design strategy mean?
Design strategy is a detailed plan that forms a connection between creative design, business goals, and customers' needs.
Strategic design not only makes the task easier for the designer but also results in a happier client.
What skills do you need to be a strategist?
While you could say that the role of a design strategist covers many fields, certain skills can pave your way toward success. These include:
Research Skills – Exploring the market to discover what the audience wants and expects
Analytical Skills – Analyzing the gathered data and extracting valuable information
Creative Thinking – Thinking outside the box and coming up with a smarter approach
Problem Solving – Recognizing potential problems and resolving them painlessly
Adaptability and Flexibility – Staying open-minded and accepting customer responses
Decision Making – Courage to make decisions and take action that improves the product future
How do you develop a design strategy?
Developing a design strategy includes a combination of thorough research activities, customer communication, and internal workshops where you discuss the goals and possibilities.
The strategy approach depends on the type of project, audience profile, and competition, so make sure to keep an open mind. You can use these steps as a guideline:
Define Your Product

What does your product represent?
What type of brand image do you want?
How do you want to position yourself?

Set Clear Goals

What do you want the end product to achieve?

Research and Analyze: Audience, Competition, Market
Identify Gaps Between Product and Goal
Track And Evaluate Results
What is strategic design management?
Strategic design management is the process of coming up with efficient ways to bring design thinking, business innovation, and client needs closer together.