If you're looking to get inspired, improve your workflow, or simply hear a great story, graphic design podcasts are an excellent resource. Regardless of your skill level, there's always an opportunity to hear and learn something new.
To make your journey interesting, we've hand-picked 12 refreshing and uplifting design podcasts that are currently on air. The podcasts are listed in no particular order – all of them will give you something valuable to take away.
So sit back, turn up the volume, and enjoy.
In this article, you'll discover:
12 best podcasts for graphic designers and creatives
Links to access the episodes through podcast services
Interesting episodes to begin with if you're new to the show
Everybody needs a helping hand once in a while, right? When you're in the creative business, it's easy to get stuck. That's why Creative Pep Talk is the perfect addition to your podcast favorites – it helps you stay productive and happy.
Each week, the charismatic Andy J. Pizza organizes fun interviews with successful professionals that share their stories. You can expect great tips, a lot of entertainment, and the key to finding a great work-life balance.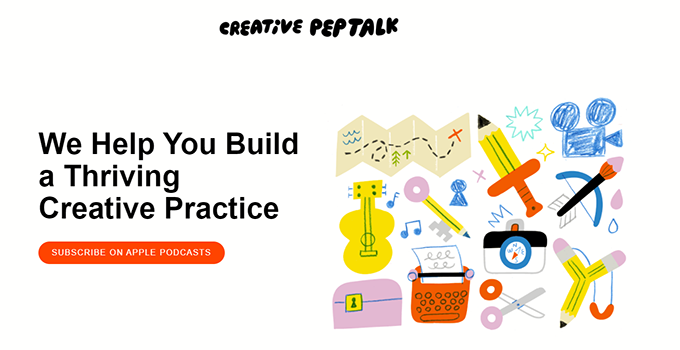 Host: Andy J. Pizza
Main Focus: Inspiration and Encouragement
Duration: 40 – 60 minutes
Whether you're a beginner or a seasoned designer, it's hard to find a better-rounded podcast than the DGDC – Deeply Graphic Designcast. A fantastic mix of interesting guests, fresh ideas and practical advice makes this podcast one of the most helpful resources for all design professionals.
The show is hosted by Nick Longo, Mikelle Morrison, and Jordan Wilson who all do their best to bring you topics and conversations that will make your mind richer after every episode. For design inspiration and a positive change of perspective, the DGDC is highly recommended.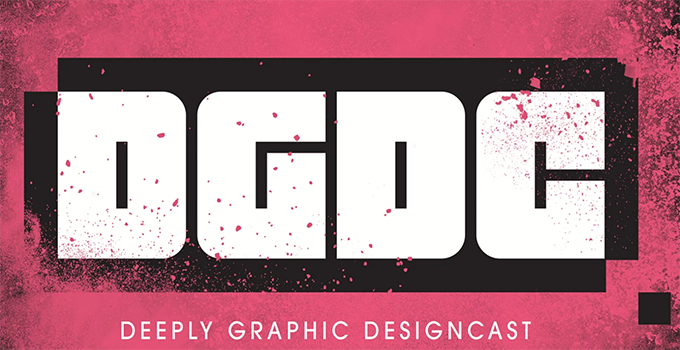 Hosts: Nick Longo, Mikelle Morrison, and Jordan Wilson
Main Focus: Perspective and Motivation
Duration: 60 – 90 minutes
As if creative work wasn't demanding enough, many designers lose precious time finding the right resources. What if somebody did that work for you and allowed you to focus solely on design? Enter the Resourceful Designer.
Hosted by graphic design expert Mark Des Cotes, this show gives you tips and practical advice that you can use to effortlessly run your design business (both graphic design and web design). Episodes are fairly short and to the point, allowing you to get easy-to-consume pieces of information right when you need them.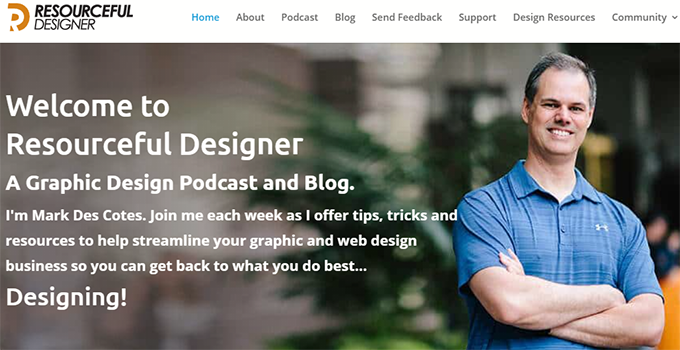 Host: Mark Des Cotes
Main Focus: Tips, Tricks, and Resources
Duration: 20 – 30 minutes
Even though you probably know this one, no list would be complete without Design Matters with Debbie Millman. What started as a radio show in New York over 15 years ago, developed into a podcast that inspired hundreds of shows after it.
Over the years, the award-winning designer Debbie Millman hosted dozens of high-profile guests from the creative world including Seth Godin, Stefan Sagmeister, Jessica Helfand, Jessica Hische, and many others. These interviews have several million downloads, which testifies to the show's quality.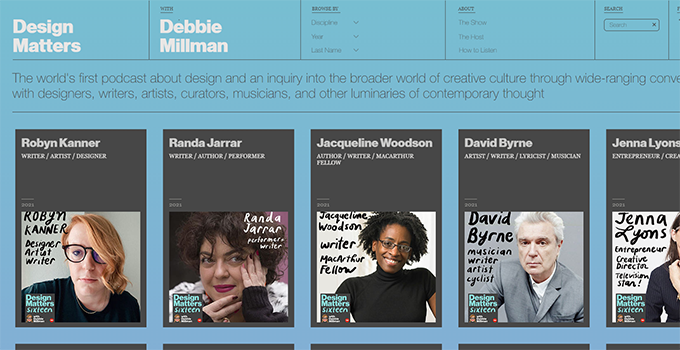 Host: Debbie Millman
Main Focus: Creative Culture
Duration: 45 – 75 minutes
If you wish to improve your workflow and productivity, The Busy Creator podcast will pave your way to success. Hosted by Prescott Perez-Fox, this show teaches you about developing skills, discovering tools, and finding better clients.
In every episode, Prescott hosts a guest from the design world (some guests include Debbie Millman, Todd Henry, and Michael Beirut among others). The conversations are relaxed, fun, and packed with information that you can use in your work.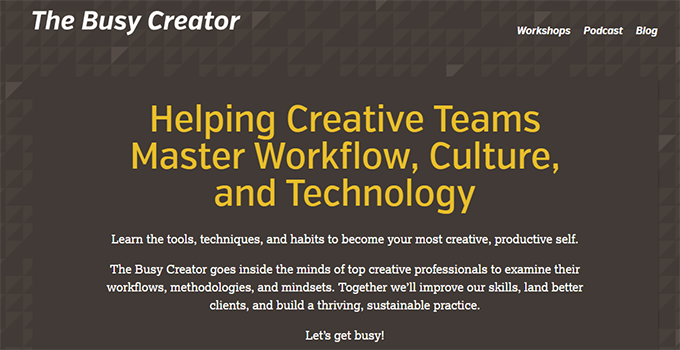 Host: Prescott Perez-Fox
Main Focus: Workflow
Duration: 30 – 60 minutes
From individual design projects to the creative culture as a whole, the Design Details podcast allows listeners to discover the steps to a successful career. The guests are never boring and you always have a chance to grab interesting ideas.
Show hosts Marshall Bock and Brian Lovin talk about design illustration, web design, and a wide range of other topics that graphic designers and creative people can enjoy.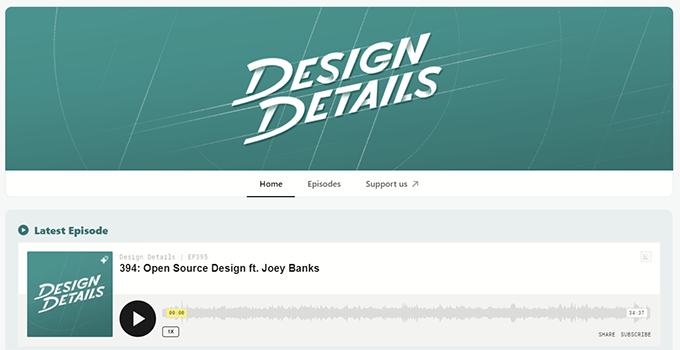 Hosts: Marshall Bock and Brian Lovin
Main Focus: Design Process
Duration: 20 – 40 minutes
Unlike most other podcasts we've featured, the Honest Designers Show tackles a different angle. What happens when you hit a creative wall, have burnout, or can't overcome a problem? Most graphic designers and creatives experience this, but not enough people talk about it honestly.
In this weekly podcast, the four hosts (Tom Ross, Ian Barnard, Dustin Lee, and Lisa Glanz) share their personal stories and talk about everything that happens behind the scenes. This talk show will give you practical tips on how to overcome your problems and come out happy on the other side.
Hosts: Tom Ross, Ian Barnard, Dustin Lee, and Lisa Glanz
Main Focus: Support and Work Satisfaction
Duration: 30 – 70 minutes
To truly succeed in the graphic design industry, you need a specific skill set that includes creative, business, and marketing skills. Want to develop these? Chris Do is here to help you in one of the highest-rated graphic design podcasts, The Futur.
The combination of a great host and well-designed interviews makes this a go-to podcast for many creative entrepreneurs. You'll be able to hear about design trends, receive career advice, and get a full grasp on the business of design.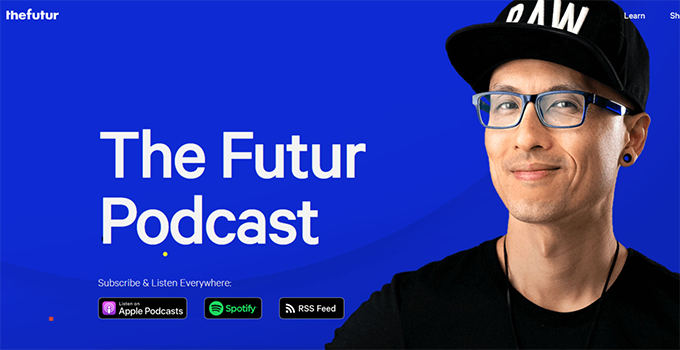 Host: Chris Do
Main Focus: Design Business, Marketing
Duration: 60 – 80 minutes
Everybody knows the importance of a great logo. But do you know how to get great ideas, land clients, and keep the cash flowing? If you enjoy making logos, the Logo Geek podcast hosted by Ian Paget will take your work to new heights.
The host is an award-winning logo designer that shares tips and advice on how to leave your own designer mark and get the most out of your work. On top of this, each episode of this design podcast features interesting guests that share fun stories along with their professional experience.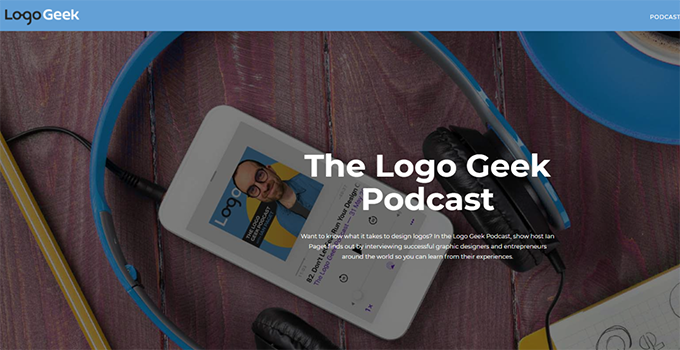 Host: Ian Paget
Main Focus: Logos
Duration: 60 minutes
If you're a design professional with a keen interest in branding and everything that surrounds it, check out the Just Branding podcast. It's certainly one of the most insightful graphic design podcasts in the branding category, with plenty to learn about brand strategy, design, personality, and identity.
Show hosts Jacob Cass and Matt Davies are seasoned creatives who have worked with some of the biggest brands in the world. In each episode, they share their professional insights, tips, and resources selflessly.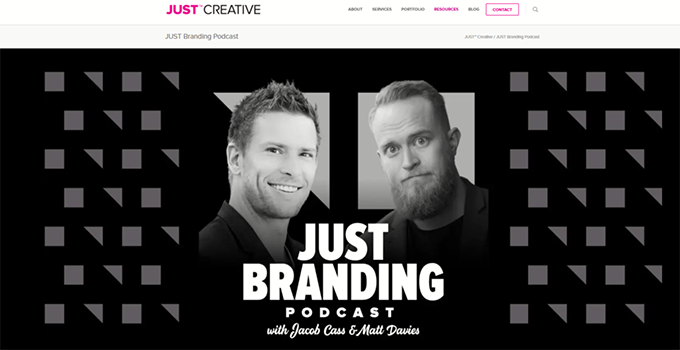 Hosts: Jacob Cass & Matt Davies
Main Focus: Branding
Duration: 40 – 70 minutes
Being your own boss, making your own schedule, enjoying the freedom. Sounds good, right? If you're a graphic designer who wants to build a career in the freelance world, the Freelance Podcast is perfect for you.
In each episode, hosts RJ McCollam and Phillip Dale break down how designers, illustrators, artists, writers, and other professionals tackle the challenges and find their place under the sun. Listen to this show and learn more about finding work, scheduling, getting paid, and balancing everything.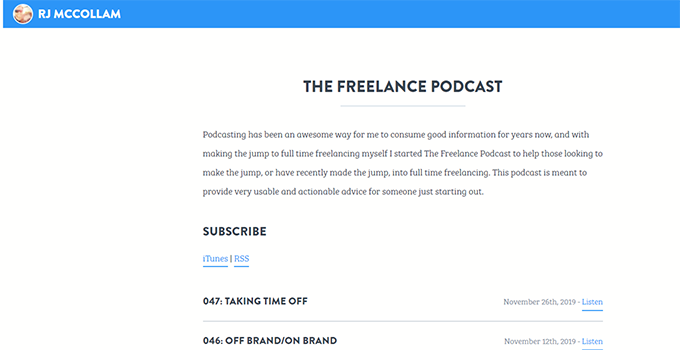 Hosts: RJ McCollam & Phillip Dale
Main Focus: Freelancing
Duration: 15 – 45 minutes
Great design solutions surround us everywhere we go, but it's easy to miss them. When considering how to design this podcast, its host Roman Mars had a goal to present incredible design stories and showcase how design shapes the world we see.
While it's not strictly related to graphic design, the 99 Invisible podcast paints a broader (and more interesting) picture. Thanks to this, it has become incredibly popular with millions of listeners around the world.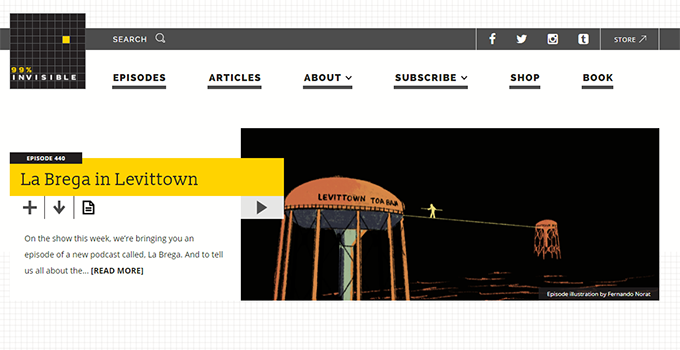 Host: Roman Mars
Main Focus: Power of Design
Duration: 30 – 40 minutes
Conclusion
Inspiration is all around us, but sometimes we need somebody to tell us where to look. That's exactly what graphic design podcasts do – give the listener a little nudge in the right direction. Hopefully, our list gave you some food for ears and thought.
While these are the best design podcasts according to our team, the field is expanding and there are a lot more up-and-coming shows to be discovered.
Do you feel like we've missed something? Leave us a comment and help other designers discover the exciting world of podcasting.